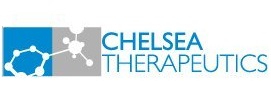 Shares of Charlotte-based drug maker, Chelsea Therapeutics International Ltd. (Nasdaq: CHTP) were up as much as 69 percent from Thursday's closing price on Friday after it was announced that the U.S. Food and Drug Administration voted in favor of recommending Chelsea's neurological drug, Northera, for approval.
Chelsea Therapeutics shares touched a high of $4.09 on Friday, up from Thursday's closing price of $2.41.
"We believe our clinical data demonstrates the significant symptomatic benefit of Northera treatment across a broad range of Neurogenic OH symptoms," said Chelsea Therapeutics' CEO Dr. Simon Pedder in a statement. "Since no other treatment has been proven to alleviate the symptoms of neurogenic OH or improve patients' ability to carry out activities of daily living, we continue to believe Northera could fill this unmet need for patients with Parkinson's disease, MSA, PAF and other neurologic diseases. We are pleased by today's panel vote and we look forward to continuing to work with the FDA in advance of the March 28, 2012 PDUFA action date."
Northera is the lead investigational agent in Chelsea's pipeline, and has has been studied in two Phase III clinical trials for the treatment of symptomatic neurogenic orthostatic hypotension in patients with primary autonomic failure — a group of diseases that includes Parkinson's disease, multiple system atrophy (MSA) and pure autonomic failure (PAF). Droxidopa is a synthetic catecholamine that is directly converted to norepinephrine (NE) via decarboxylation, resulting in increased levels of NE in the nervous system, both centrally and peripherally.
Chlesea Therapeutics submitted a New Drug Application (NDA) for Northera in September 2011. The drug was previously granted Orphan Drug Designation, which is granted by the FDA to treatments for rare diseases and disorders.